Handwritten & posted just for you
2021 Christmas Card Writing Service

Our Christmas Card writing Service is famous throughout the UK and was recently featured in The Telegraph & The Mirror.
It is great to send Christmas cards to your clients and loved ones; especially after a year like 2020 when you haven't seen them as often as you usually would.

Sending a handwritten Christmas card lets them know that you haven't forgotten them and reminds them that you are there, but it takes up SO much time, time you don't really have, time you want to be spending on your business or time you want to be spending with your loved ones.
So, why not use our Christmas Cards Service? Let us handwrite and send your Christmas cards for you.  We have some fantastic cards on offer this year, choose your favourites from the shop below, send us your addresses and we will hand-write them and post them for you. What a relief!
This year we have teamed up with artist Dianne Wallace and photographer Adrian Backhouse to bring you some beautiful Christmassy designs. We also still have the choice of a box of standard Christmas cards or you can send us your own cards!
Choose your Christmas cards and once you have bought the selection of your choice, follow our instructions below so we can handwrite and send them out for you as soon as possible.
Order your cards below via our contact form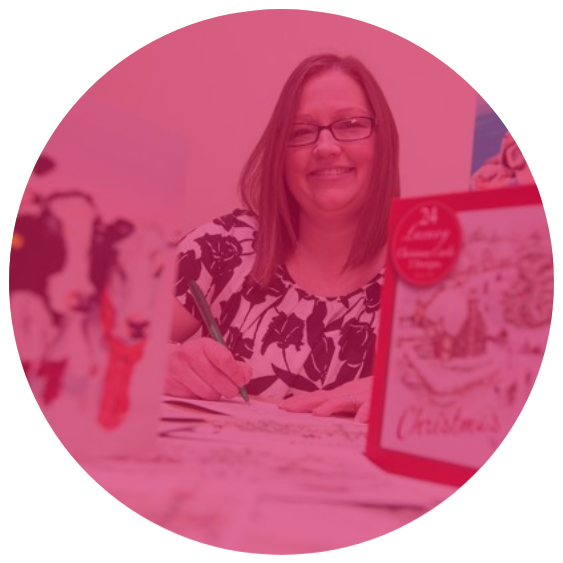 Choose Your Christmas Cards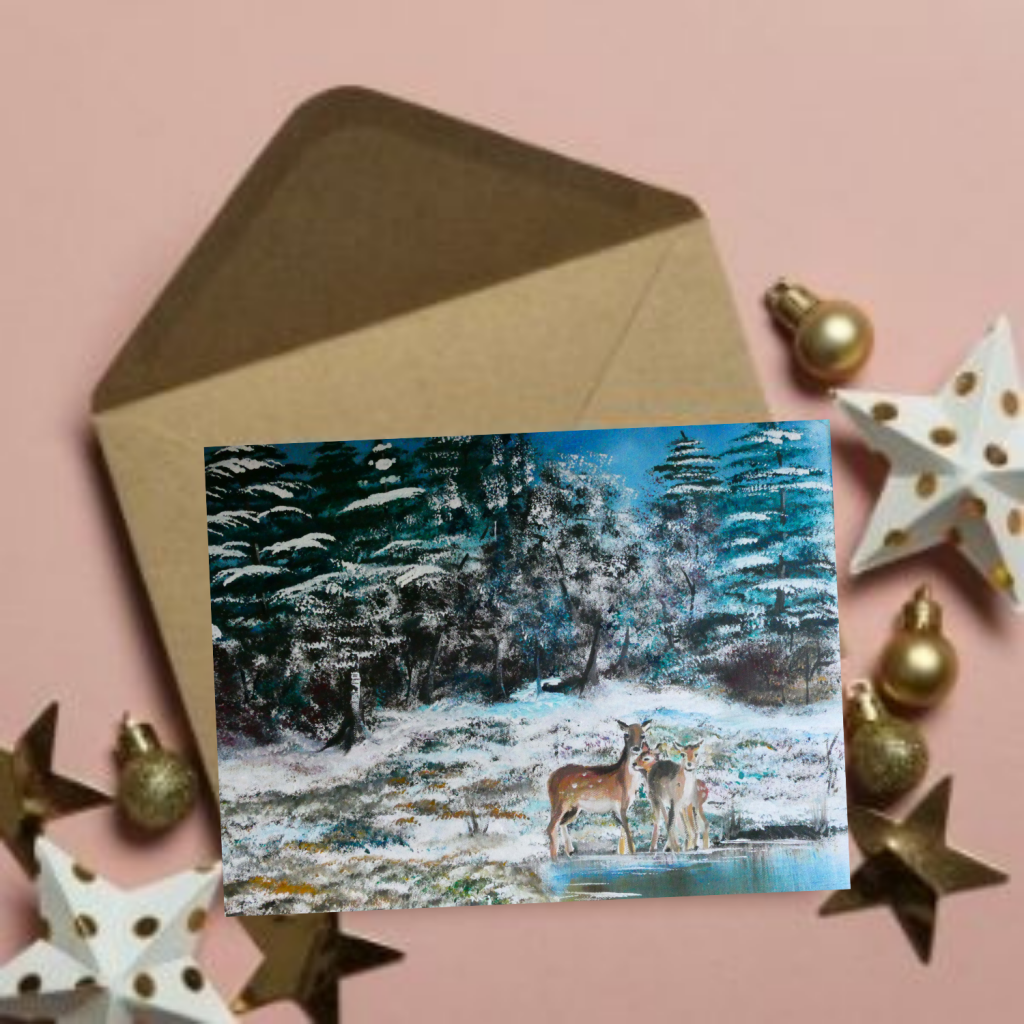 Oh Deer!
A family of deer snuggled up and having a drink in the snow Postage. This Christmassy scene was painted by artist Dianne Wallace.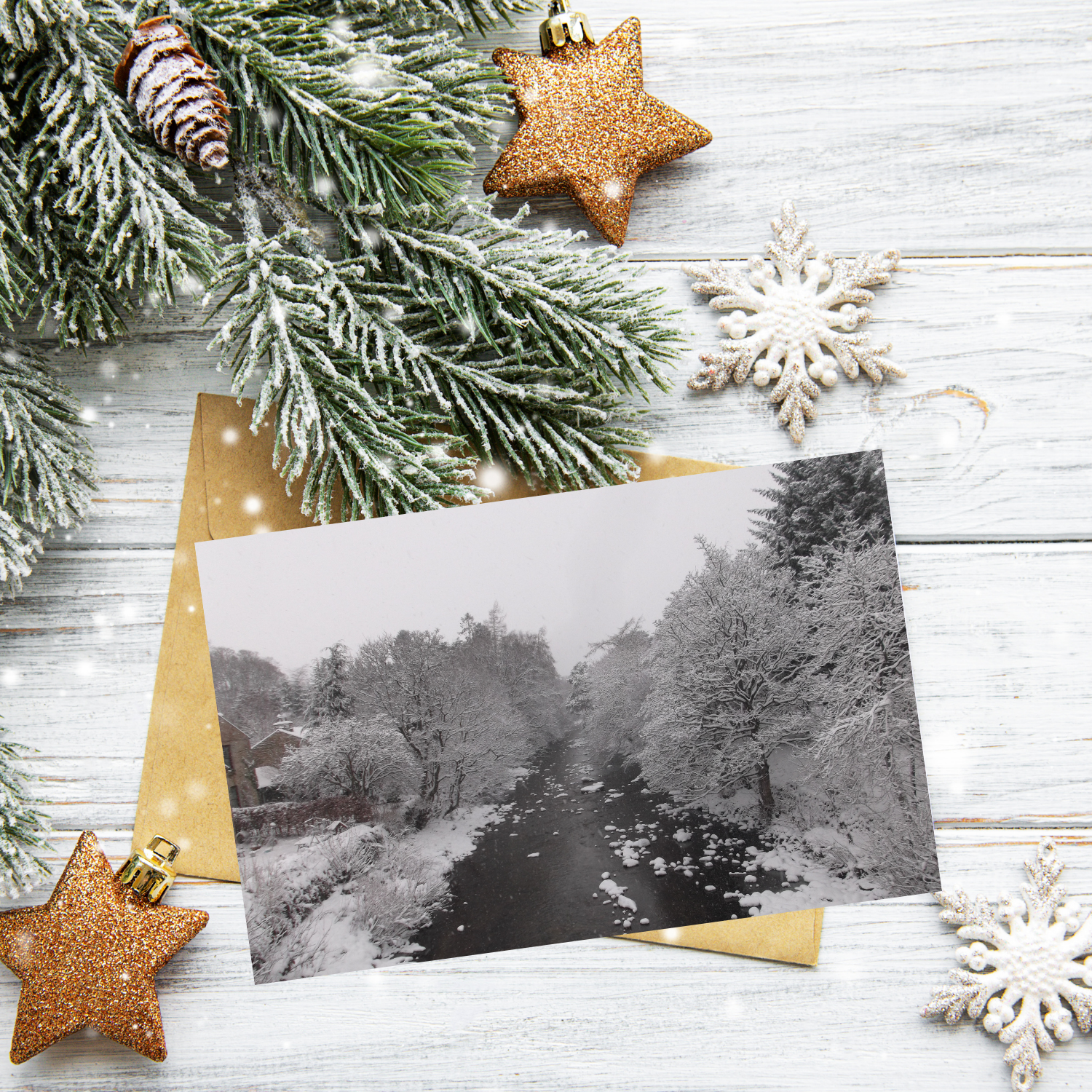 Snowy Pennine River
A snowy river in the North Pennines. Photographed by Adrian Backhouse in the highest town in the UK - Alston, Cumbria.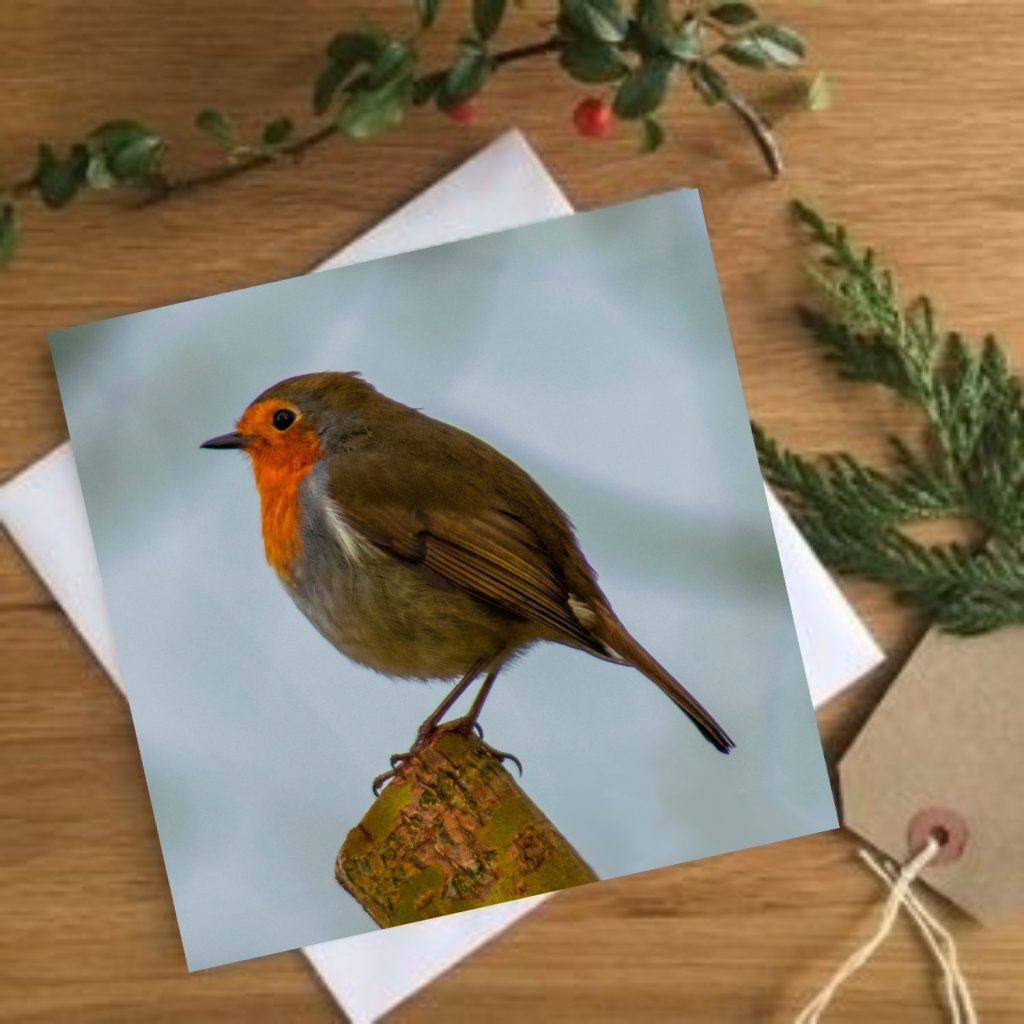 Seasonal Robin
This happy little Robin was hopping about in a tree next to Buttermere, Cumbria when photographer Adrian Backhouse snapped him.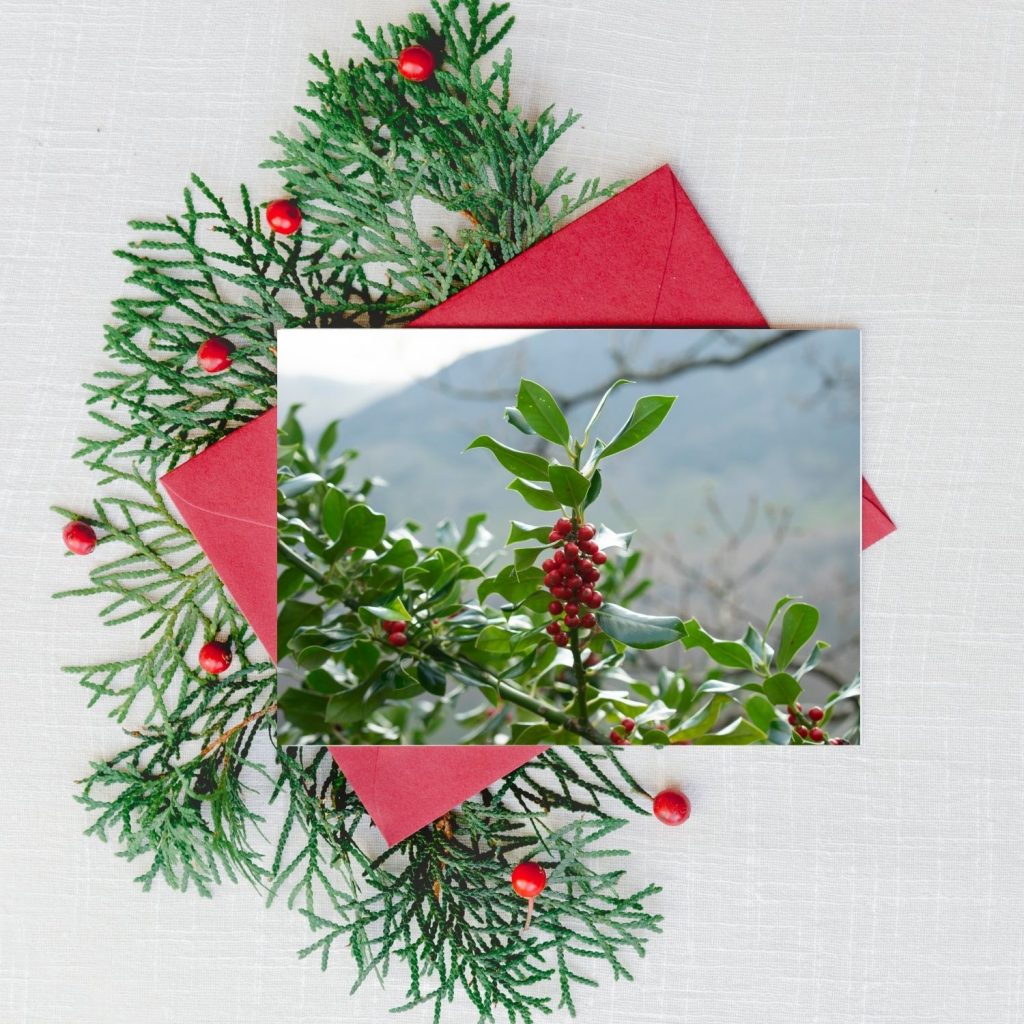 Holly in the Lakes
These lovely holly berries were photographed by Adrian Backhouse in Buttermere in the Cumbria Lake District in Christmas 2019 on a cold crisp day.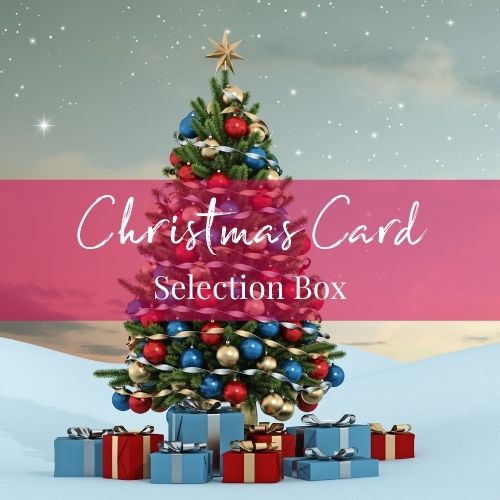 Charity Selection Box
A good quality selection box of Charity Christmas cards handwritten and posted for you. These year we are supporting Asthama UK and Cancer Reseaerch, but we can use a charity of your choice's cards if you prefer.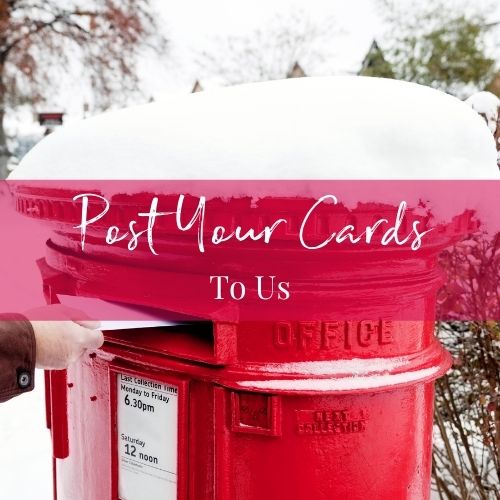 Send Us Your Cards
Send us your own cards and we will handwrite and post them for you. Simply pop them in the post and send us your list and we'll handwrite & post them for you.
FAQs about our Christmas Card Writing Service
HOW DO I PAY?
Once you send us your order via our contact form above, we will send you an invoice.  You can then either use the bank details on the invoice to pay by BACS/Bank Transfer, or you can call us and pay via card over the phone.  Please remember that payment is required upfront.
SENDING US YOUR CARDS
If you have a pack of your own Christmas cards, send it to us, along with your list of contacts to Curlew Secretarial Solutions 24 Front Street, Brampton Cumbria CA8 1NG. Then all we need to do is write them out and post them for you. Purchase the 'Send us your cards' package above and then pop your list and cards straight into the post. We will let you know that they have arrived safely, and again once your cards have been sent out.
WHY HAND-WRITTEN?
Hand-written cards add that personal touch your clients are looking for, they show that thought has gone into writing their card and highlight that you are interested in them. Sending out Christmas Cards to your clients is great marketing for your business and reminds your clients (both existing and past/future) that you are there.
Who is your chosen charity for 2021?
We have two chosen charities for 2021.  One is the organisation Asthma UK and Cancer Research UK who both offer a great range of Christmas Cards.
Each year we pick a new charity to support and purchase our charity Christmas Cards from.
PLEASE NOTE:
If you order any of our designs, the turnaround time for our Christmas Cards service is around two weeks (depending on how many cards you have asked us to do), this is due to the time it takes to order them from the printers as well as the time it takes to handwrite them. Please remember this when ordering.
Unfortunately, we cannot accept Christmas Card Service orders after 14th December 2021 for our designs and cards supplied by you or 16th December 2021 for our standard pack of cards.
Payment is required up-front, any delay in payment will result in a delay in your service.
We are not calligraphers so, all cards will be written in everyday, neat handwriting.
Once your cards have been posted, all contact lists sent to us will be shredded, all personal details will be treated as confidential, and will not be used by us in any other way. They will not be sent to any third party. We are registered with the ICO and are GDPR compliant.
We take no responsibility for cards lost in the post or not received.
We take no responsibility for old or wrong addresses given.
Any questions about our Christmas Cards Service? Give us a shout here